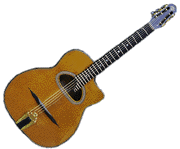 Background information
An introduction (start here)
Is it a Maccaferri?
Or is it a Selmer?
The Internal Resonator
About Mario Maccaferri
in English
in French
Selmer Primer
About François Charle
The Selmer Maccaferri book
Manouche-Tone Strings
Musicians
Paul Mehling
Raul Reynoso
John Jorgenson
Romane
Swing guitar links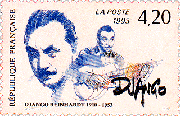 the rest of the site
Paul Hostetter, luthier
Back to the main page
Email: click here

Paul Mehling and the Hot Club of San Francisco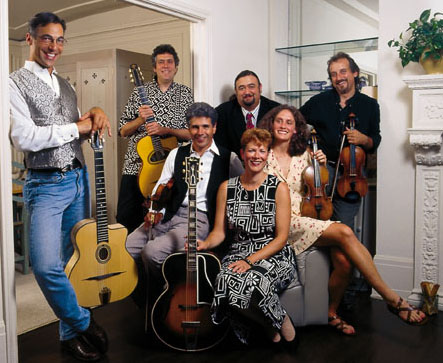 Standing l-r: Paul Mehling, Michael Groh, Steven Strauss, Jeremy Cohen;
seated, clockwise: Julian Smedley, Jenny Scheinman, Sylvia Herold
Paul Mehling is the founder and lead guitarist of the Hot Club. An accomplished multi- instrumentalist (guitar, violin, bass, plectrum and tenor banjo, mandolin), Paul has been a professional musician for over 25 years.
The Hot Club of San Francisco is an all acoustic string troupe of violin, string bass and guitars. Each time you see them perform it may be a different ensemble of musicians. "In this regard, it really is a club...we do this because we like to keep the music fresh." Having an ever-changing kaleidoscope of players makes for some very interesting combinations of talents, interpretations and showmanship.
---
These folks have made some wonderful CDs over the years. Click on the album cover here and have a good look!
Correspondence To: Hot Club of San Francisco
3105 Ashbrook Court
Oakland, California 94601
Their website is at http://www.HCSF.com
---
Oh yes, one more thing: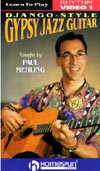 Paul has a couple of very good instructional videos out that you should know about. Find out more here.










This page © 1999 Paul Hostetter. All rights reserved.