Songs, stories and melodies from around the world


---


Seven of the Bay Area's more broad-minded musical voyagers
converge to explore and share sonorous treasure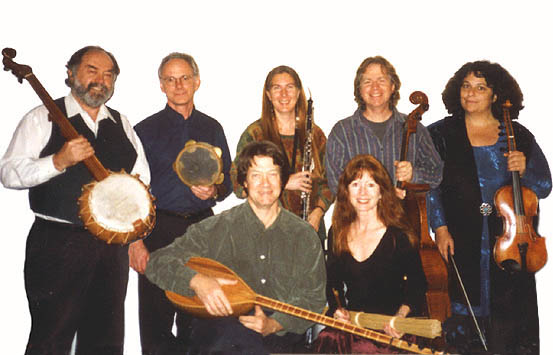 ---
Robin Petrie - voice, hammered dulcimer, santouri, accordeon
Shira Kammen - voice, violine d'amore, fiddle, harp
Kevin Carr - voice, violine d'amore, fiddle, bagpipes, strings
Paul Hostetter - voice, guitar, mandolin, stringed things
Barry Phillips - voice, cello, tabla & percussion
Shelley Phillips - voice, double-reeds, harp, harmonium, whistle
Peter Maund - percussionist extraordinaire
(Who are these people? Click here to find out more!)

Recently playing music from Sweden, Scotland, north Georgia,
Auvergne, the 18th century, Madagascar, Gaspésie,
Bulgaria, Mississippi, the 11th century, Armenia,
Xinjiang, Oklahoma, Galicia, north Africa,
and the 21st century.

Dizzying time signatures
Startling geographical segués
Cheerful hubris
Occasional songs
Good ideas
Seat belts suggested
An evening of unique and incomparable entertainment is assured.
---

For more information, contact Paul Hostetter